Travel to Scottsdale and stay and play at one of the many world famous Hotels, Resorts & Spas.
[spatialmatch_map id=4 show_title=true width=100% height=700]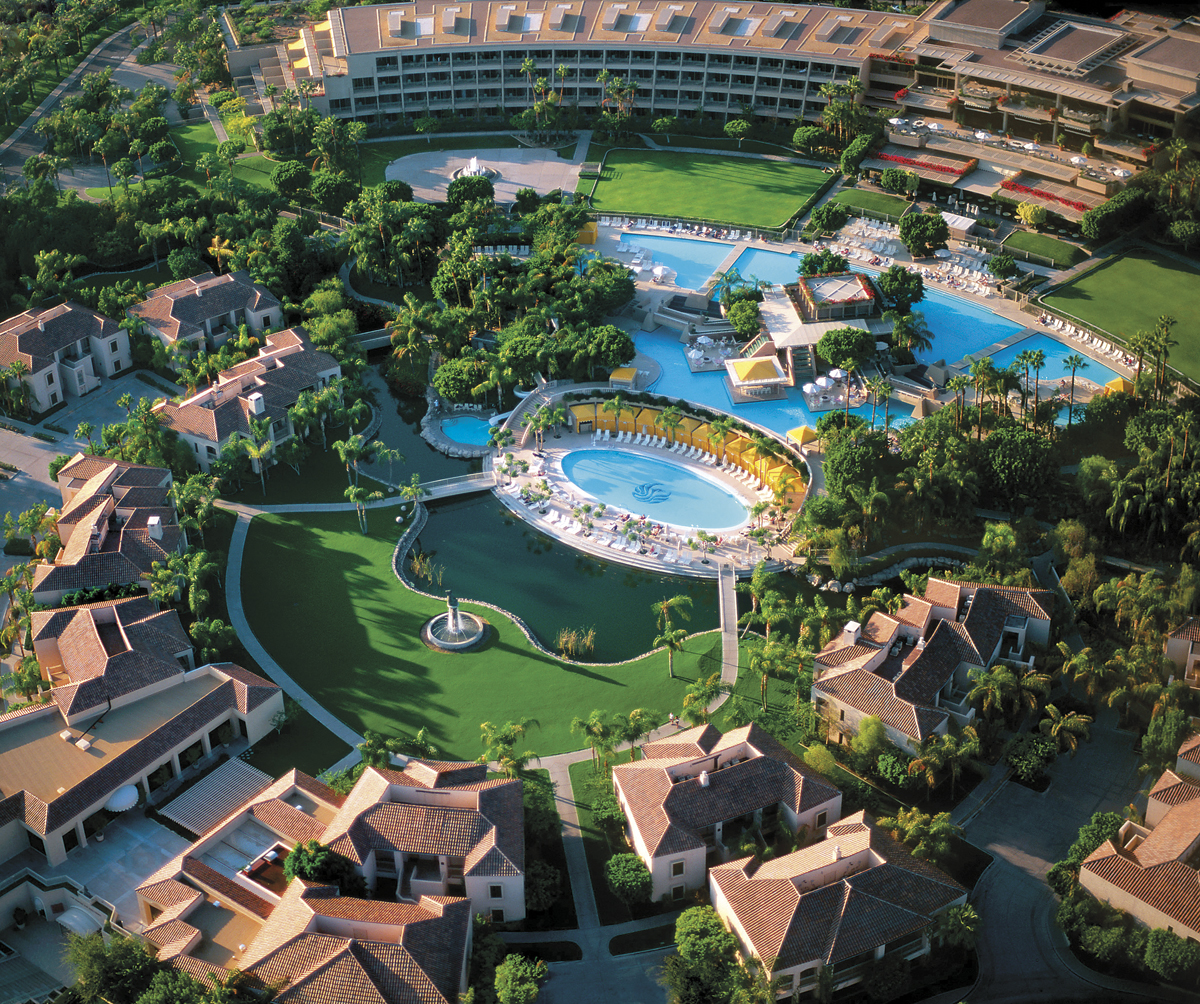 SCOTTSDALE HOTELS  &  SCOTTSDALE RESORTS
THE PHOENICIAN
Guests marvel at the array of pleasures that make this prestigious landmark a one-of-a-kind destination resort. A place with blue skies, warm sunny days and the rich colors and textures of the great American Southwest. A place singularly designed for comfort and enjoyment, brightened by a spirit of easy elegance. A place where you can feel miles away from the rest of the world, yet right at home.
The Phoenician is known for its lavish decor and breathtaking surroundings – plus the caring, exceptional service you would expect from a fine private club. Unparalleled elegance is artfully expressed through the resort from beautifully appointed accommodations, including an $8 million dollar art collection, to the most stunning golf course in the Southwest,
Scottsdale Links Resort – guests enjoy elegantly furnished oversized suites, each with its own separate living room and dining room featuring fabulous mountain or golf course views. Each lavishly decorated one, two and three bedroom suites surpasses even the most discriminating traveler's expectations with fully equipped kitchens, full-size washers and dryers and private patios.
The Scottsdale Links Resort showcases elegantly appointed all-suite accommodations with private patios that provide guests the ultimate in convenience and luxury complete with a resort class spa and fitness center.
Vacationers interested in the magic ofScottsdale,Arizona, will find this resort nestled between the TPC Desert Golf Course and the breathtakingMcDowellMountainsoffering a host of scheduled activities, tennis and relaxing pool and spa-side areas.
Resort Suites – Resort Suites was founded as a full service resort condominium hotel more than ten years ago. Our idea was to provide absolutely the best levels of service and amenities for our guests – all within a private club atmosphere.
Enjoy the best of Scottsdale Golf Resorts with a customArizonavacation package by Resort Suites.
There are no bad lies, unexpected bounces or even hazards for those savvy destination travelers who choose to stay and play golf at Resort Suites Scottsdale.
With a seasoned staff of Professional Golf Vacation Planners specifically assigned to take care of every detail, no wonder Resort Suites has been the prime Scottsdale golf resort and industry leader in stay-and-play golf packages since 1990. In fact, "the pros'' at Resort Suites have booked over 500,000 rounds of golf on Scottsdale's finest fairways and greens.
Since every greatScottsdalegolf resort needs a point man, the Professional Golf Vacation Planners at Resort Suites are experts in filling that role. They know Scottsdale's courses inside and out, from course design, to course condition and playability. You can trust that whether you play one of our 23 Golf Bank Courses, or any one ofScottsdale's spectacular desert golf layouts, you'll be custom fit to the exact Scottsdale Golf Experience you're looking for.
As a visiting golfer's  "personal caddie,'' Todd, Steve, Tim, Brian and Dan will help pull the appropriate club from the bag when it comes to choosing when and where to play Scottsdale golf. Resort Suites' golf specialists will help you choose between the 17 Golf Bank properties, which offer 23 outstanding courses in total. And there are some difficult — but wonderful! — dilemmas when it comes to choosing between such spectacular High Sonoran layouts as The Boulders, Eagle Mountain, Grayhawk, Gold Canyon, Legend Trail and the Ravens (South Mountain and Verrado).
Four Seasons – Surrounded by towering Saguaro cactus and majestic mountains, Four Seasons Resort Scottsdale at Troon North is a jewel in the highSonoranDesert. Under the blueArizona sky, the challenge of the Monument and Pinnacle golf courses at Troon North awaits Resort guests.
In the cooling foothills ofPinnaclePeak, <NOBR>Four Seasons</NOBR> offers a truly handcrafted desert resort experience. Spacious casitas open to astonishing scenery. Heartbeat-skipping views garnish imaginative Southwestern fare. Celebrated Troon North golf is at your door. The spa is a refuge of head-to-toe pampering. Intuitive service adds freedom to every moment.
The Boulders – Nestled in the highSonoranDesert foothills north ofScottsdale, this celebrated resort blends so easily with nature that the local wildlife might never notice anything there. The resort's 160 individual casitas are carefully sculpted into the dramatic natural terrain.
Nestled among 12-million-year-old boulders in the scenic desert foothills near Scottsdale, Arizona, The Boulders Luxury Resort and Golden Door® Spa has been namedAmerica's Top Resort for 14 consecutive years – and is one of the country's most prestigious resort destinations.
Imagine awakening in an adobe casita that offers an enchantingArizonadesert view of towering cacti, ancient boulders, coyote, deer and jackrabbits. Sip your morning coffee in pampered comfort and enjoy thoughtful touches such as overstuffed leather chairs, hand-hewn wood beams and an aromatic wood-burning fireplace.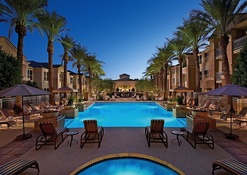 Gainey Suites – in Scottsdale is a luxury 164 room, all-suite hotel catering to the extended stay guest, business travelers and families.The stylish luxury resort suites hotel, Gainey Suites at Gainey Ranch, has everything you're looking for, at a fraction of the price of the mega-resorts in this exclusive Scottsdale neighborhood. You'll be delighted to find Gainey Suites Hotel offers many of the amenities and services that you would expect to find in a large resort
Fairmont Scottsdale Princess – The Fairmont Scottsdale Princess, AAA Five Diamond resort, is the ultimate desert oasis. Scenically set against the backdrop ofArizona'sMcDowellMountains, this is the idyllic Southwest experience, reflecting the beauty of the landscape and creating an atmosphere of casual elegance. All the amenities and luxuries are available, from a championship golf course andSpa & FitnessCenter to a variety of award-winning restaurants.
A member of the 'Leading Hotels of the World,' this magnificent resort is scenically set against the backdrop ofArizona'sMcDowellMountainsand pays tribute toArizona's Spanish Colonial heritage.
Boasting one of the best Spas in North America (by Condé Nast Traveler), three award-winning restaurants, state-of-the art meeting facilities, and two 18-hole Championship Golf Courses — one of which is home to the Annual PGA Tour FBR Open — (formerly the Phoenix Open), The Fairmont Scottsdale Princess is truly an experience like no other.
Whether you gather at The Fairmont Scottsdale Princess to meet, play or simply relax, the resort will leave you with the benefits of world-class hospitality in the Valley of the Sun.
Sanctuary on Camelback – A legend tells that once an Indian maiden led her camel across the desert. After walking for days, she went in search of water. Instructing her camel to wait for her, she left the camel kneeling in the sand. When she returned the camel had turned to stone.Situated on 53 acres, high above the Valley, Sanctuary onCamelbackMountain recalls the era when the finest resorts were elegant and intimate. Sanctuary onCamelbackMountain offers its guests unparalleled privacy and peace. Every aspect of the property blends into the ageless mountain setting, yet guests enjoy the most modern of pleasures and conveniences.
Sheraton's Desert Oasis – For centuries theSonoranDesert has conjured up visions of exotic flora and fauna, sacred mountains, boundless spaces and an almost mystical tranquility… A peacefulness of spirit… A seductive spell. At Sheraton Desert Oasis, these romantic reveries are vividly real.
Set amidst the magnificent backdrop of theSonoranDesert, the finely detailed, fully furnished vacation villas of the Sheraton Desert Oasis were designed in a setting of unparalleled splendor. Nestled near the renowned Scottsdale Tournament Players Club, host of the PGA's Phoenix Open, the luxurious villas boast a 4,500 square foot swimming pool, spray pool, cascading waterfalls, secluded spa grotto, poolside cabana, children's play area, fitness center with arcade and snack bar, a centrally located clubhouse which includes a spacious owner's lounge, juice bar, gift shop and more.
For centuries theSonoranDeserthas conjured up visions of exotic flora and fauna, sacred mountains, boundless spaces, and an almost mystical tranquility. A peacefulness of spirit. A seductive spell. At Sheraton Desert Oasis, these romantic reveries are vividly real.
The Resort is located in the heart ofNorth Scottsdale, .02 miles from Tournament Player's Club – home of the Phoenix Open. Sheraton Desert Oasis is 21 miles fromPhoenixSkyHarborAirportand convenient to numerous golf courses, fresh water lakes, desert wilderness, urban attractions and major sporting events.
Westin Kierland Villas – Located on 10 acres within the exclusive Kierland master-planned community, we are just minutes fromScottsdale. Boasting 300 days of sunshine, the area is renowned for its breathtaking sunsets, stunning vistas, incredible golf, and fascinating history. The past meets the present at The Westin Kierland Villas, located on 10 acres within the exclusive Kierland master-planned community just outsideScottsdale,Arizona. Boasting more than 300 days of sunshine, the area is renowned for its world-class golf, stunning vistas and fascinating history. Whether relaxing at the spa, shopping downtown or golfing one of more than 174 courses, there is truly something for everyone to enjoy in The Valley of the Sun. Built upon a diverse history of Native American, Spanish and western pioneer cultures, the Scottsdale area offers the unique combination of a storied past and a contemporary present that will stimulate the senses of young and old alike.
Scottsdale Camelback Resort – Nestled in the foothills of majesticCamelbackMountain, the Scottsdale Camelback Resort is a picture perfect destination. From luxuriously appointed rooms to meticulously manicured grounds and plentiful Amenities, the Scottsdale Camelback Resort is the perfect place for you.
Village at Carefree Resort Villas– Designed to take full advantage of Arizona's abundant sunlight, big sky and gentle weather, the new condominiums of The Village at Carefree Resort Villas provide the perfect setting for important executive meetings, VIPs who require productive and secluded accommodations, and for guests looking to capture the feeling of the Sonoran Desert and all it has to offer. To some…Carefree is simply Golf Heaven! Just north ofScottsdale, nestled in a majesticSonoranDesert setting, Carefree is famous for it's warm winters, spectacular scenery and world class golf. Carefree also is known for upscale resorts such as The Boulders, Desert Mountain and our very own Carefree Resort & Villas, an award-winning resort dedicated to pampering its leisure vacation guests and hosting meetings for Fortune 500 companies requiring the ultimate in state-of-the art meeting venues.